by Fred Fuld III
You have seen the headlines during the last several months. You have noticed the price increases on Amazon (AMZN), in your supermarket, and even at the dollar stores (which should probably now be called the $1.25 stores). Have you considered using gold as an inflation hedge?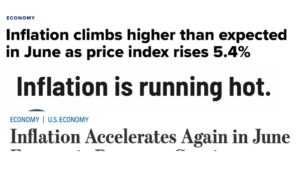 Inflation is here and it's getting worse. Investors and traders that understand this are now looking for ways to profit from inflation.
Of course no one expects hyperinflation, as was seen in Zimbabwe in 2008.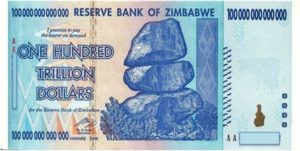 In Zimbabwe, the country's peak month of inflation is estimated at 79.6 billion percent month over month, and 89.7 sextillion percent year over year in mid-November of 2008. That's an inflation rate in numerical terms of 89,000,000,000,000,000,000,000%.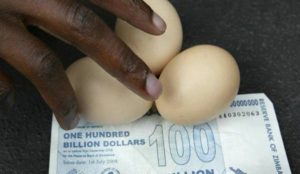 Back then, it cost billions of dollars just to buy basic food items. Inflation was so bad that the country allowed currencies from other countries to be used in April 2009. In 2015, Zimbabwe switched to the U.S. dollar as its national currency.
In 2019, Zimbabwe reintroduced the Zimbabwe dollar, but unfortunately, hyperinflation has hit the country again, measuring 737% last year.
So what is a trader and investor to do? Here are several ways to make gold work for you.
Gold
Gold has long been considered a primary inflation hedge. Over the last 20 years, the price of gold has increased by 597%, which works out to an annualized return of 10.19%. Taking inflation into consideration, gold has gone up by 335%, or 7.622% annualized.
Many studies have shown that gold has provided superior returns during times of inflation. In addition, according to a study at the Stern School of Business at New York University, "overall gold by itself is a safe haven with respect to exhibiting lower volatility in response to shocks or negative return days."
The big question is, if you want to invest in gold, how should you do it?
Physical Gold
Physical gold means gold that you can hold in your hot little hands. This could either be gold bullion or gold coins.
Gold Bullion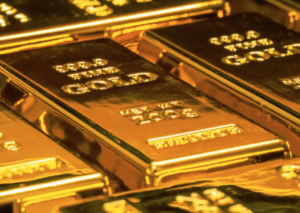 Gold bullion is sometimes referred to as gold bars, similar to the bars in Fort Knox. They can be as small as one gram or as large as 400 ounces (27.5 pounds).
The big advantage of gold bullion is privacy. Bullion bars can be kept anywhere: a home safe, a safe deposit box, or in the ground. Another advantage is that bullion is generally less expensive than gold coins, even bullion gold coins.
Gold Bullion Coins
Gold bullion coins are coins that are issued by governments with a very high gold content, but very little or no numismatic value, but are issued as legal tender. In other words, they sell for very close to the price of gold. These coins include the American Gold Eagle and the Canadian Maple Leaf.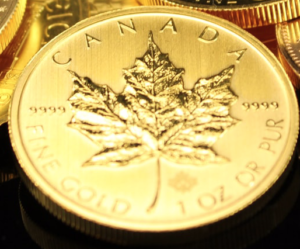 These coins also have the benefit of privacy, but they are also issued in various denominations, making them easier to trade. For example, if you have a one ounce gold bar but you want to sell one quarter of the gold, you would be stuck. However, you do have the ability to own four American Eagle quarter-ounce gold coins, or even ten 1/10th ounce coins.
Many investors believe that the gold coins have better liquidity than bullion. However, the premium on gold coins is higher than the premium on bullion, and the smaller the denomination of the coin, the higher the premium.
Numismatic Gold Coins
Numismatic gold coins are coins which have value due to their scarcity, physical appearance, condition, and many other factors. They are collected by coin collectors.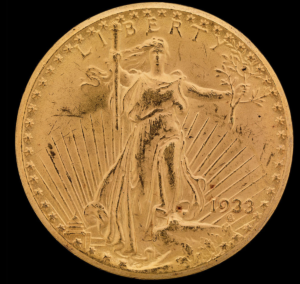 The big advantage is that the value of these coins can increase far more than the value of gold, and can even go up in price if the gold price stays the same or even drops. They are less liquid than bullion coins and have a much bigger spread (the price at which you pay for the coin versus what you can sell it for). The other disadvantage is that the coins have a much higher premium than bullion coins.
There is one big estate tax advantage to owning U.S. numismatic gold coins. Talk to your accountant about it. It is currently legal and above board as far as I know, but I am not an accountant or tax attorney. Consult yours.
Gold Securities
Gold ETFs
Gold ETFs are Exchange Traded Funds that have a goal of tracking the price of gold. There are many of them including SPDR Gold Shares (GLD), iShares Gold Trust (IAU), and SPDR Gold MiniShares Trust (GLDM).
There are even some leveraged gold ETFs, such as ProShares Ultra Gold (UGL), which has a goal of providing twice the daily leverage of gold prices.
Gold Mining Stocks
There are many gold mining companies to choose from. The smaller companies are referred to as junior miners (not minor miners). Some of the bigger ones include Newmont Mining (NEM), Barrick Gold (GOLD),AngloGold Ashanti (AU), and Kinross Gold (KGC).
Gold Royalty Trusts
Gold Royalty Trusts do not do any mining. What they do is provide money to mining companies in return for receiving a stream of income based on a percentage of revenues or percentage of gold production.
Some of the biggest gold trusts are Franco-Nevada (FNV), Wheaton Precious Metals (WPM), Royal Gold (RGLD), and Osisko Gold Royalties (OR).
Gold Miners ETFs
Gold Miners ETFs are Exchange Traded Funds that invest in gold mining stocks. VanEck Vectors Gold Miners ETF (GDX) is the largest of these ETFs. VanEck Junior Gold Miners ETF (GDXJ) holds the smaller (junior) mining companies. Direxion Daily Gold Miners Index Bull 2x Shares (NUGT) is a double bullish ETF.
Gold Futures
One other way to invest in gold, which is the most speculative way, is through gold futures. These are exchange-traded contracts to buy or sell a specific amount of gold in the future at a specified price. The returns can be substantial but so are the risks, as your losses can far exceed the original investment that you put up.
How Much Should You Invest in Gold
Many financial advisors recommend that you hold a small amount of gold, up to 5% to 10% of your portfolio as a hedge. Hopefully, gold will make your portfolio sparkle and shine.
Disclosure: Author is long AMZN, GLD, WPM, and OR.